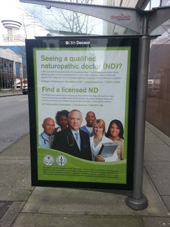 Health Awareness outreach campaign: Ongoing in Vancouver, Victoria and Kelowna.
Health Headlines
February 2014: In Ottawa today the federal finance minister
announced that GST exemption will be applied to health services
from licensed naturopathic doctors.
October 2013: AETNA CEO endorses naturopathic medicine.
May 2013: Pro golfer Matt Stansfield sees pain relief through naturopathic medicine.
April 2013: CMAJ Publishes Study on Naturopathic Medicine
The Canadian Medical Journal has published a randomized, clinical trial showing that naturopathic medicine benefits patients at risk for cardiovascular disease. Link to the CMAJ here. Read the Vancouver Sun commentary here.
November 2012: BC Standing Committee on Health Report Highlights
There is evidence that inter-professional collaboration amongst health care providers can lead to better outcomes and reduce costs. A strengthened provincial strategy and investment in prevention could potentially avoid up to $2 billion in yearly health care costs in BC. A European study found that individuals who adopted a healthy lifestyle significantly reduced their risk of being diagnosed with a chronic disease between 49% and 78%. Download the entire report here.
August 2012: Regs pass in Alberta. The Alberta government has formally regulated naturopathic medicine under the province's Health Professions Act. Now half of Canada has ND regulations. See more on the News & Events tab and Facebook links.
June 2012: Huffington Post: NDs Proving Integrative Medicine
Read the article here; link to HP here
May 2012: Breaking Down Barriers to Naturopathic Doctors
Read the Campbell River Mirror profile here
September 2010: Enhancements to Primary Care in BC
Easing the burden on the provincial health system, providing options for primary care: Many NDs now able to access traditional therapeutics, prescribe when necessary and provide enhanced primary care. More info here.
"In a sense, the ability to prescribe legitimizes the decision not to prescribe"
Spring 2011: IHP Magazine feature profile on NDs in BC providing primary care.